EAST Whale Watches 2024

We will resume whale watching in 2024. Thanks for your interest!
Price: $75.00 per person for non members and $65.00  for members
Tickets available Online (www.eastvi.org), at East End Secretarial Services in Red Hook and at the Drafting Shaft in Havensight.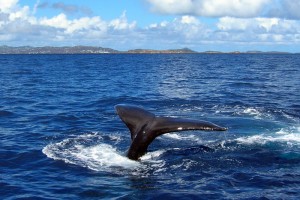 The vessel will depart 8 a.m. from the Yacht Haven/WICO finger pier and returns around 3 pm. We will be sailing West toward Saba Rock to look for Humpback Whales. We will be accompanied by an experienced marine biologist as our guide. If time prevail, we will sail over to Turtle Cove, Buck Island for a light lunch and swim. Complementary juice and water provided during the trip. Snorkeling equipment will be provided during our stop at Turtle Cove where participants will get the opportunity to see turtles foraging in the wild and ending a great day at sea.
Whale Watches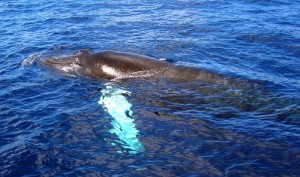 An Eco-guide will be on board to talk about whales and the other sea life we may encounter along the way.Please bring extra refreshments, but crew will have beverages on board.A light lunch will be provided by our organization however feel free to bring your own. There is limited shade on board, bring sunscreen and a hat. Binoculars are helpful.
We will head west towards Saba Rock or in that general area as these areas are known for its whale sightings, but weather, swells and recent sightings will affect our decision.
Please be prepared with Dramamine, Scopiates or Sea Bands as we sail into Open Ocean with long swells. There IS NO GUARANTEE WE WILL SEE A WHALE.
Also, if a whale is spotted late in the day we must abide by the captain's decision to return to dock. We will poll the boat to see if everyone wants to drop anchor for a swim, HOWEVER, there is no guarantee of a swim as our first priority is looking for whales!Bring snorkel gear if needed but gear will be provided  for a quick dive, The boat will abide by local laws and stay 300 yards away, and not deflect a whale's path: they may come to us though!
No one is allowed in the water if a whale approaches: besides the danger, they may swim miles away in the time it takes for us to pick people up and get under way, missing more viewing for the entire boat.
The prevalent type of whale spotted is the Humpback, often a female with a baby, sometimes traveling in a group with others. We will teach guests what to look for to enhance our chances of spotting them.
NO REFUNDS except in the following 2 cases:
1-Severe weather, and the cancellation of the sail by the owner or captain:
We will reschedule the sail on a different day, if possible, but will refund tickets if guests cannot make it on the new date.
2-If we cannot sell 25 tickets for each sail by ________ or ___________(night before) we may cancel the sail and refund all sold tickets.
NOTE: ALL PARTICIPANTS MUST BE ABLE TO BOARD THE VESSEL WITH MINIMUM ASSISTANCE FROM THE CREW.
For more information on up-coming EAST Activities or to join the EAST Activities Committee, please contact the Activities Chair, Dalma Simon.